The bathroom cabinet is a piece of essential equipment in the bathroom furniture. A good-looking and practical bathroom cabinet can not only help people better storage of goods but also can play a decorative effect. Азыркы учурда, базарда ванна шкафтарынын көптөгөн түрлөрү бар, with various styles and materials. Ошентип, кантип туура ванна шкафын тандоо керек? How to buy worthy bathroom furniture storage? ошондуктан, кооздоо стилинин жайгашуусу, the limitation of reserved position, and so on are the factors we should consider when selecting a bathroom cabinet.
The purchase of bathroom cabinets is great learning

.

бүгүн, Мен сизге ванна бөлмөсүнүн эң мыкты стратегиясын сунуш кылам. Кел тезирээк чогулталы!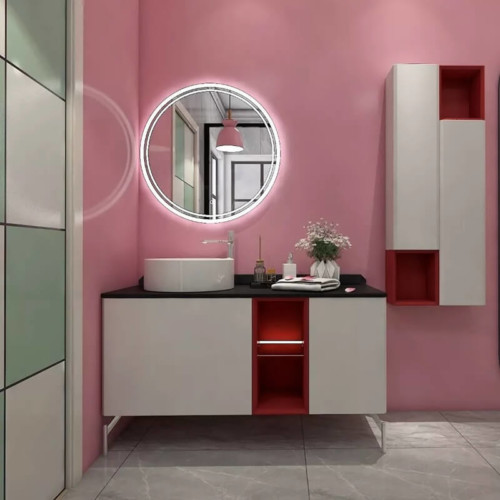 (1)
Ванна шкафынын өлчөмдөрү
Жуунучу бөлмөнүн шкафын тандоо, адегенде ванна шкафынын көлөмүн аныкташыңыз керек. Азыркы учурда, стандарттуу жуунучу шкафтар 80cm-100cm жана 45cm-50cm en. If the toilet has a large area, the length of the bathroom cabinet can even reach 120cm-180cm. In the choice of bathroom cabinet size, эргономика сакталышы керек. Эгер ал өтө бийик жана өтө кыска болсо, бул колдонуучунун тажрыйбасына олуттуу таасир этет.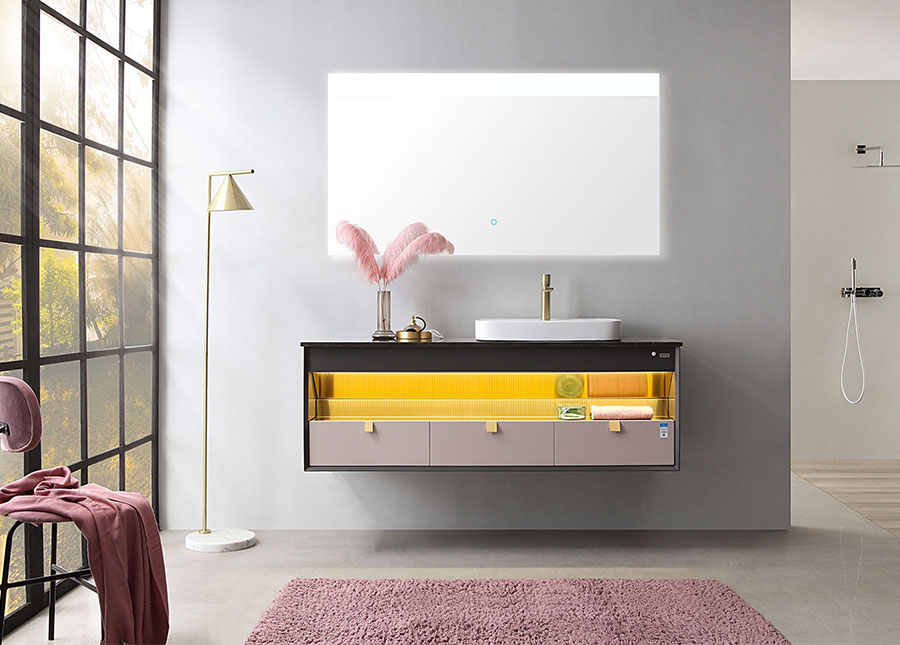 (2)
Мончо шкафынын стили
Ванна бөлмөсүнүн өлчөмүн аныктагандан кийин, the next step is to choose the style according to the decoration style of the bathroom. Азыркы учурда, two types of bathroom cabinets are more popular on the market, one is floor-standing and the other is wall-mounted. Both have advantages and disadvantages.
1.Floor-standing bathroom cabinet: refers to the bathroom cabinet with the bottom touching the ground
Advantages: 1.There is no wall restriction during installation, convenient transportation, and installation. 2.It is convenient to store and store objects, with larger storage space, stable center of gravity and can store heavy objects.
Disadvantages: 1. The bottom touches the ground all the year-round, which is more susceptible to moisture. 2. Occupying more space will make the bathroom more depressed and the space smaller. 3. It is difficult to clean, and there are many sanitary dead spots at the bottom.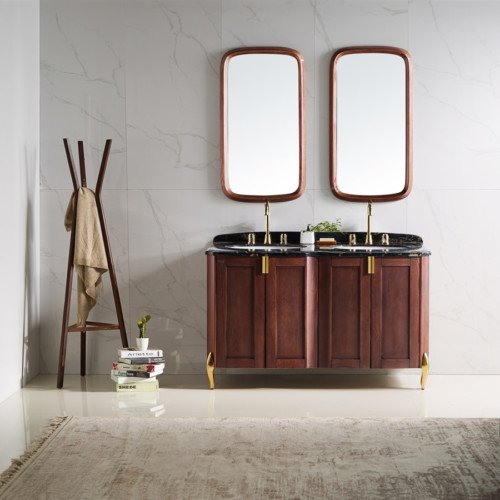 2.Wall-mounted bathroom cabinet: refers to a bathroom cabinet whose bottom is suspended and installed on the wall by connecting parts.
Advantages: 1. The bottom suspension is conducive to the diffusion of moisture, not moldy. 2. There is no sanitary dead corner in the hanging place, which is convenient for cleaning. 3. It's simple and easy, and it won't appear that the toilet is oppressive and crowded.
Disadvantages: 1. Troublesome installation, you need to use load-bearing walls and solid walls to install bathroom cabinets. 2. Poor load-bearing, it can't place overweight items. 3. Storage space is limited.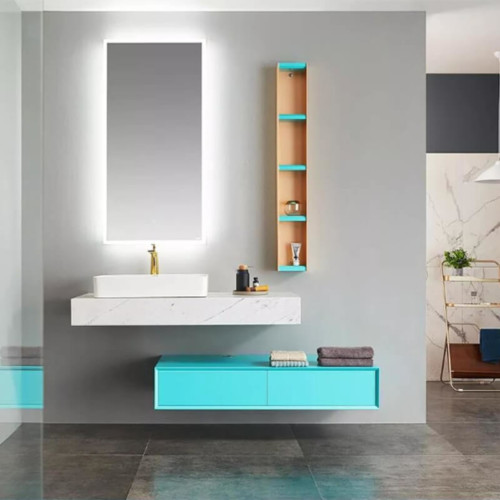 (3)Bathroom cabinet material
The bathroom is a humid and dark space all year round. There is also a lot of attention to the material selection of bathroom cabinets. Азыркы учурда, шкафтын материалы негизинен катуу жыгач, Пластик, дат баспас болоттон жасалган табак.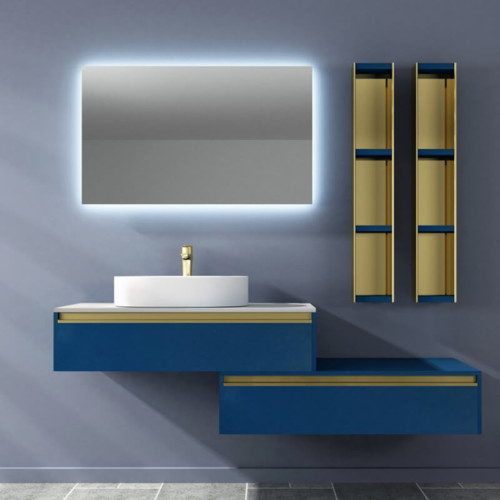 1.ПВХ ванна бөлмөсү
Ванна бөлмөсүндөгү шкафтар сууга жакшы туруштук берет, so they are not susceptible to moisture and mildew and are durable. Кошумча, Ванна бөлмөсүндөгү шкафтар шкафтардын иштетүү көрсөткүчтөрүнө ээ. Түсү жана формасы боюнча көптөгөн тандоолор бар, and the price is relatively cheap and it has high cost-effective.
Бирок, the PVC bathroom cabinet is made of chemical board, which has many harmful substances and poor high-temperature resistance. Ал үй-бүлөдөгү карылар жана балдар тарабынан кылдаттык менен тандалат.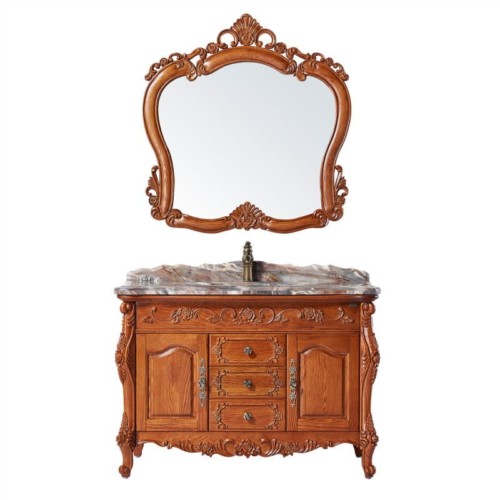 2.Катуу жыгач ванна убаракерчилик
Катуу жыгачтан жасалган ванна шкафынын текстурасы да, көрүнүшү да бар, бирок баасы салыштырмалуу жогору. If you want to pursue the style of the bathroom and the appearance of the bathroom, катуу жыгач шкаф жакшы тандоо болуп саналат. Бирок, катуу жыгач шкафтар нымга салыштырмалуу ийкемдүү жана бышык эмес.
3.Дат баспас болоттон жасалган ванна бөлмөсү
Stainless steel bathroom cabinet has a stronger metal texture, good wear resistance, and moisture resistance, айлана-чөйрөнү коргоо дагы жакшы, and it is also a good choice for a bathroom cabinet. Бирок, дат баспас болоттон жасалган жуунучу кабинанын өзү көрүнүшү жогору эмес, суу пайдаланылгандан кийин картайып калат, көп техникалык тейлөө жана оңдоону талап кылат.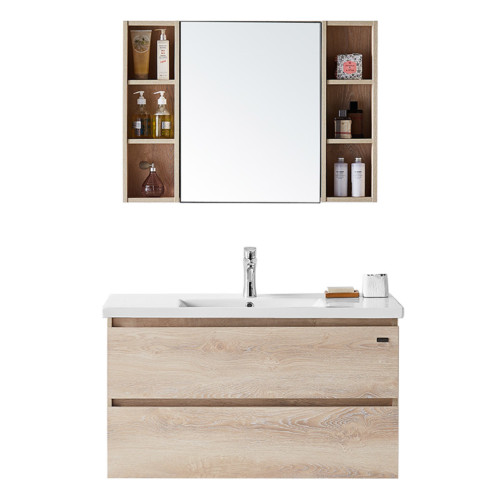 The above is about how to choose a bathroom cabinet. Эгер дагы суроолор болсо, сураныч биз менен байланышыңыз. Frank is a bathroom furniture manufacturer in China focusing on high-quality bathroom cabinet for 13 жыл.

Tags

:

Custom bathroom cabinets

,

Wall mounted bathroom cabinet