The bathroom cabinet is a piece of essential equipment in the bathroom furniture. A good-looking and practical bathroom cabinet can not only help people better storage of goods but also can play a decorative effect. Pada masa ini, terdapat banyak jenis kabinet bilik mandi di pasar, with various styles and materials. Jadi bagaimana memilih kabinet bilik mandi yang sesuai? How to buy worthy bathroom furniture storage? Oleh itu, kolokasi gaya hiasan, the limitation of reserved position, and so on are the factors we should consider when selecting a bathroom cabinet.
The purchase of bathroom cabinets is great learning

.

Hari ini, Saya akan memberi anda strategi kabinet bilik mandi yang paling komprehensif. Mari kumpulkan dengan cepat!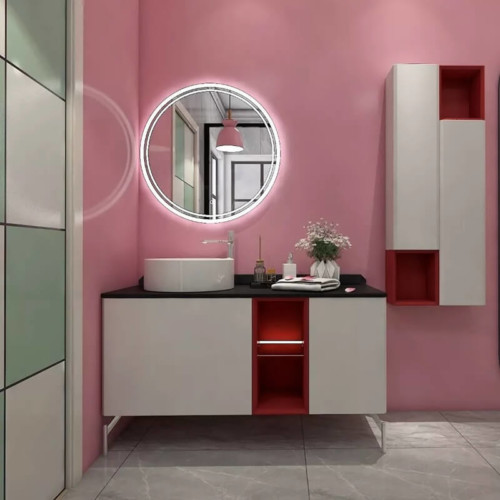 (1)
Dimensi kabinet bilik mandi
Untuk memilih kabinet bilik mandi yang sesuai, pertama anda perlu menentukan ukuran kabinet bilik mandi. Pada masa ini, kabinet bilik mandi standard panjangnya 80cm-100cm dan lebar 45cm-50cm. If the toilet has a large area, the length of the bathroom cabinet can even reach 120cm-180cm. In the choice of bathroom cabinet size, ergonomi mesti diikuti. Sekiranya terlalu tinggi dan terlalu pendek, ia akan menjejaskan pengalaman pengguna secara serius.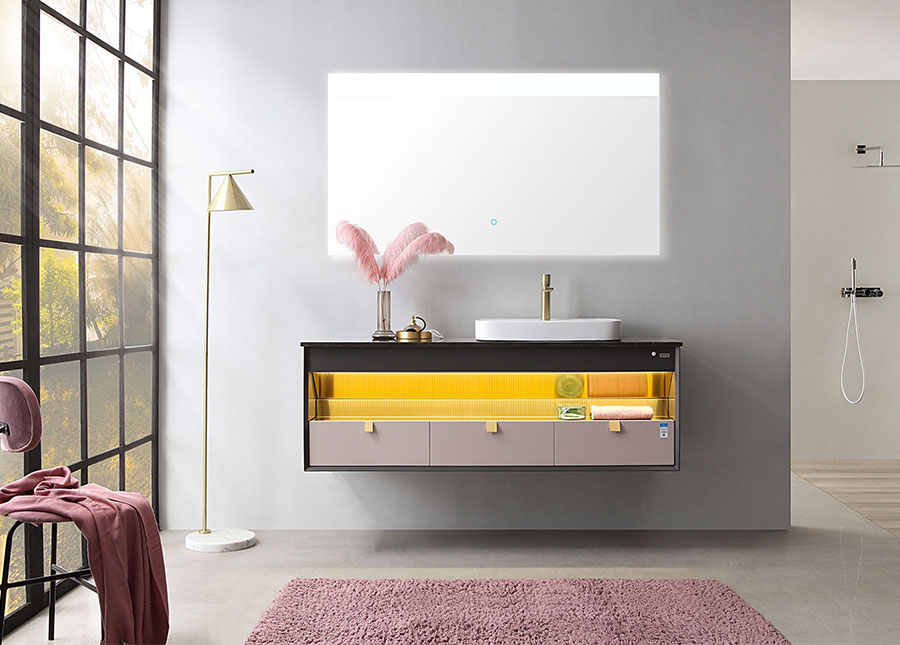 (2)
Gaya kabinet bilik mandi
Setelah menentukan ukuran kabinet bilik mandi, the next step is to choose the style according to the decoration style of the bathroom. Pada masa ini, two types of bathroom cabinets are more popular on the market, one is floor-standing and the other is wall-mounted. Both have advantages and disadvantages.
1.Floor-standing bathroom cabinet: refers to the bathroom cabinet with the bottom touching the ground
Advantages: 1.There is no wall restriction during installation, convenient transportation, and installation. 2.It is convenient to store and store objects, with larger storage space, stable center of gravity and can store heavy objects.
Kekurangan: 1. The bottom touches the ground all the year-round, yang lebih terdedah kepada kelembapan. 2. Mengisi lebih banyak ruang akan menjadikan bilik mandi lebih tertekan dan ruangnya lebih kecil. 3. Ia sukar dibersihkan, dan terdapat banyak tempat kebersihan di bahagian bawah.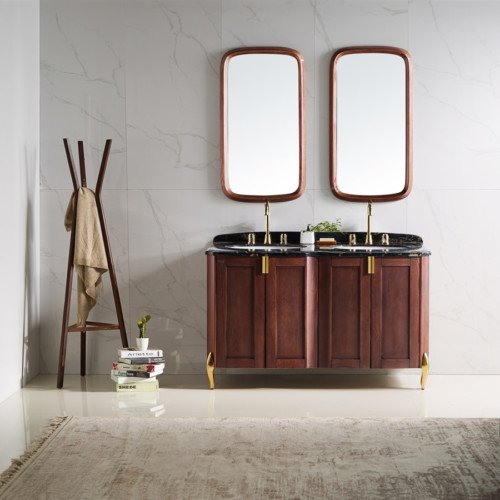 2.Kabinet bilik mandi yang dipasang di dinding: merujuk kepada kabinet bilik mandi yang bahagian bawahnya digantung dan dipasang di dinding dengan menghubungkan bahagian.
Advantages: 1. Suspensi bawah kondusif untuk penyebaran kelembapan, tidak berkulat. 2. Tidak ada sudut mati kebersihan di tempat gantung, yang senang dibersihkan. 3. Ia ringkas dan senang, dan tandasnya tidak menindas dan sesak.
Kekurangan: 1. Pemasangan yang menyusahkan, anda perlu menggunakan dinding yang menanggung beban dan dinding yang kukuh untuk memasang kabinet bilik mandi. 2. Menanggung beban yang lemah, it can't place overweight items. 3. Ruang simpanan terhad.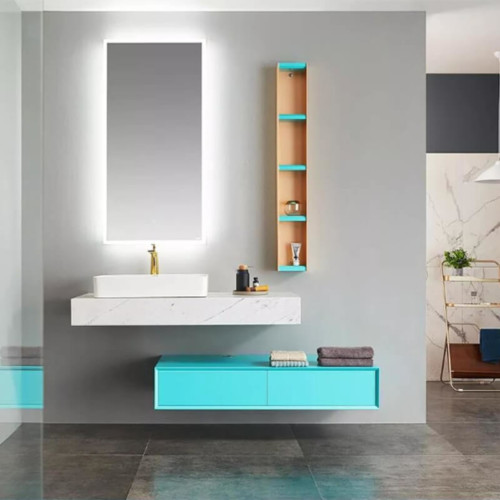 (3)Bahan kabinet bilik mandi
Bilik mandi adalah ruang yang lembap dan gelap sepanjang tahun. There is also a lot of attention to the material selection of bathroom cabinets. Pada masa ini, the cabinet material is mostly solid wood, PVC, stainless steel plate.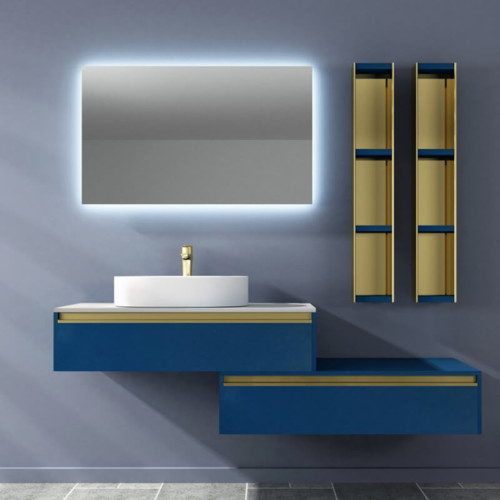 1.Kabinet bilik mandi PVC
PVC bathroom cabinets have good water resistance, so they are not susceptible to moisture and mildew and are durable. Sebagai tambahan, PVC bathroom cabinets have very good processing performance. There are many choices in color and shape, and the price is relatively cheap and it has high cost-effective.
Walau bagaimanapun, the PVC bathroom cabinet is made of chemical board, which has many harmful substances and poor high-temperature resistance. Ia dipilih dengan teliti oleh orang tua dan kanak-kanak dalam keluarga.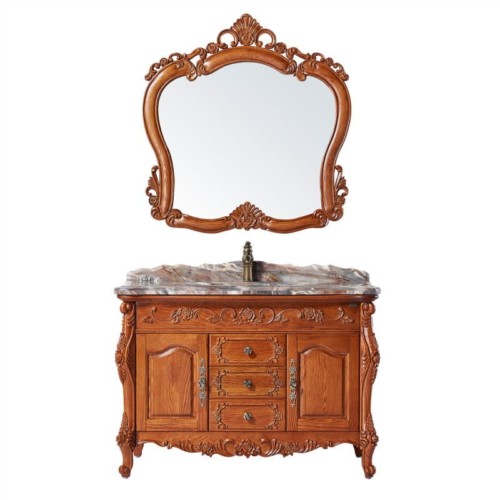 2.Kesombongan bilik mandi kayu pepejal
Kabinet bilik mandi kayu padu mempunyai tekstur dan rupa, tetapi kosnya agak tinggi. If you want to pursue the style of the bathroom and the appearance of the bathroom, kabinet kayu pepejal adalah pilihan yang baik. Walau bagaimanapun, kabinet kayu pepejal agak rentan terhadap kelembapan dan tidak tahan lama.
3.Kabinet bilik mandi keluli tahan karat
Stainless steel bathroom cabinet has a stronger metal texture, good wear resistance, and moisture resistance, perlindungan alam sekitar juga sangat baik, and it is also a good choice for a bathroom cabinet. Walau bagaimanapun, kabinet bilik mandi keluli tahan karat itu sendiri tidak tinggi penampilannya, dan ia akan menjadi tua kerana noda air setelah lama digunakan, yang memerlukan lebih banyak penyelenggaraan dan pembaikan.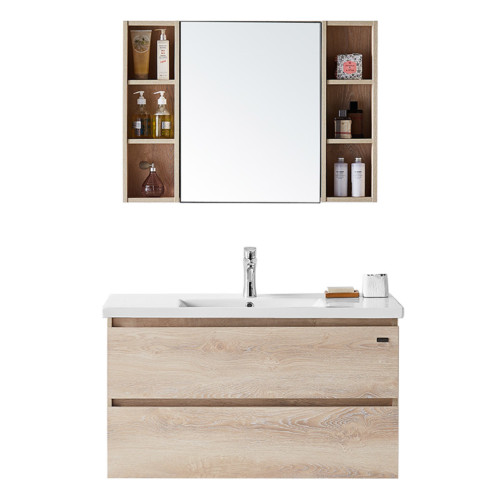 The above is about how to choose a bathroom cabinet. Sekiranya anda masih mempunyai soalan, sila hubungi kami. Frank is a bathroom furniture manufacturer in China focusing on high-quality bathroom cabinet for 13 tahun.

Tags

:

Custom bathroom cabinets

,

Wall mounted bathroom cabinet