The bathroom cabinet is a piece of essential equipment in the bathroom furniture. A good-looking and practical bathroom cabinet can not only help people better storage of goods but also can play a decorative effect. Waqtigan xaadirka ah, suuqa waxaa ku yaal noocyo badan oo jikada musqulaha ah, with various styles and materials. Marka sidee loo doortaa gole musqusha oo ku habboon? How to buy worthy bathroom furniture storage? Sidaa darteed, isku-darka qaabka qurxinta, the limitation of reserved position, and so on are the factors we should consider when selecting a bathroom cabinet.
The purchase of bathroom cabinets is great learning

.

Maanta, Waxaan ku siin doonaa istiraatiijiyada golaha wasiirada ee musqusha. Aynu si dhakhso leh u soo uruurinno!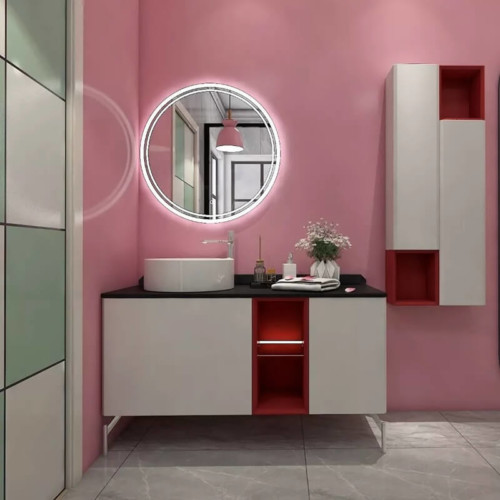 (1)

Dimensions of bathroom cabinet
To choose a suitable bathroom cabinet, you first need to determine the size of the bathroom cabinet. Waqtigan xaadirka ah, the standard bathroom cabinets are 80cm-100cm long and 45cm-50cm wide. If the toilet has a large area, the length of the bathroom cabinet can even reach 120cm-180cm. In the choice of bathroom cabinet size, ergonomics should be followed. If it is too high and too short, it will seriously affect the user experience.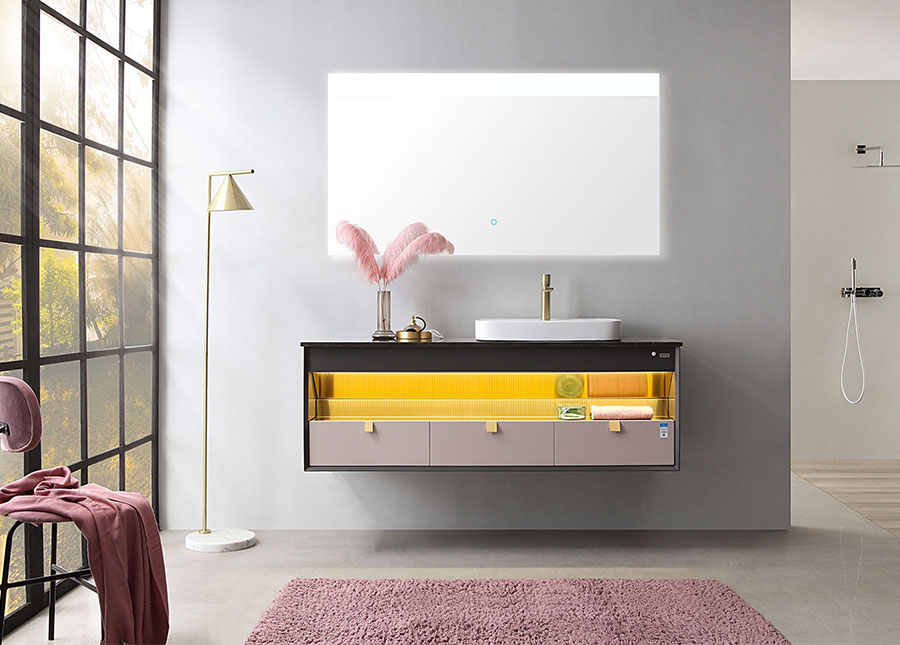 (2)
Bathroom cabinet style
After determining the size of the bathroom cabinet, Tallaabada xigta waa in la doorto qaabka iyadoo loo eegayo qaabka qurxinta musqusha. Waqtigan xaadirka ah, laba nooc oo armaajooyinka musqusha ayaa caan ka ah suuqa, one is floor-standing and the other is wall-mounted. Labaduba waxay leeyihiin faa'iidooyin iyo faa'iido darrooyin.
1.Qolka musqusha dabaqa taagan: waxaa loola jeedaa golaha musqusha ee salka hoose ku leh dhulka
Faa'iidooyinka: 1.There is no wall restriction during installation, convenient transportation, and installation. 2.Way ku habboon tahay in la kaydiyo oo la kaydiyo shay, oo leh meel weyn oo wax lagu kaydiyo, stable center of gravity and can store heavy objects.
Disadvantages: 1. The bottom touches the ground all the year-round, which is more susceptible to moisture. 2. Occupying more space will make the bathroom more depressed and the space smaller. 3. It is difficult to clean, and there are many sanitary dead spots at the bottom.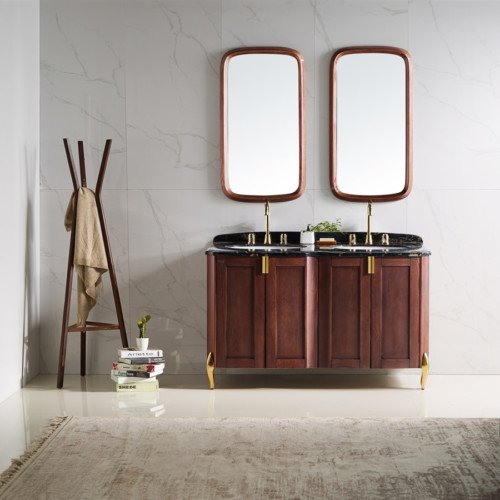 2.Wall-mounted bathroom cabinet: refers to a bathroom cabinet whose bottom is suspended and installed on the wall by connecting parts.
Faa'iidooyinka: 1. The bottom suspension is conducive to the diffusion of moisture, not moldy. 2. There is no sanitary dead corner in the hanging place, which is convenient for cleaning. 3. It's simple and easy, and it won't appear that the toilet is oppressive and crowded.
Disadvantages: 1. Troublesome installation, you need to use load-bearing walls and solid walls to install bathroom cabinets. 2. Poor load-bearing, it can't place overweight items. 3. Storage space is limited.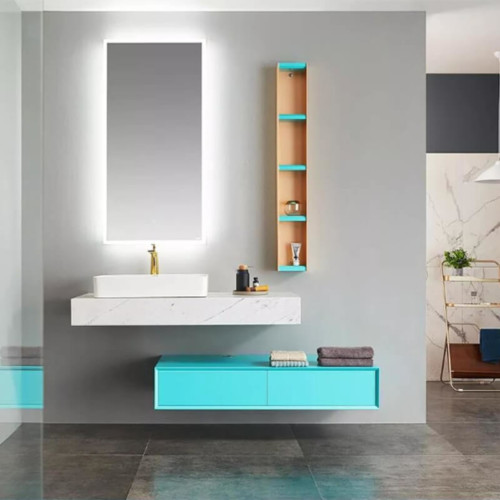 (3)Bathroom cabinet material
The bathroom is a humid and dark space all year round. There is also a lot of attention to the material selection of bathroom cabinets. Waqtigan xaadirka ah, the cabinet material is mostly solid wood, PVC, stainless steel plate.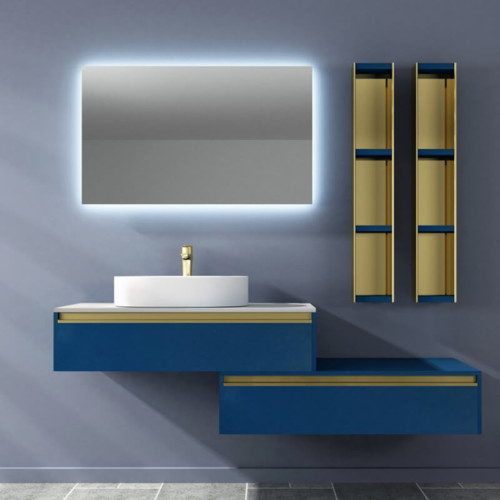 1.Qolka musqusha ee PVC
PVC bathroom cabinets have good water resistance, so they are not susceptible to moisture and mildew and are durable. Intaa waxaa dheer, PVC bathroom cabinets have very good processing performance. There are many choices in color and shape, and the price is relatively cheap and it has high cost-effective.
Si kastaba ha noqotee, the PVC bathroom cabinet is made of chemical board, which has many harmful substances and poor high-temperature resistance. Waxaa si taxaddar leh u xushay waayeelka iyo carruurta qoyska.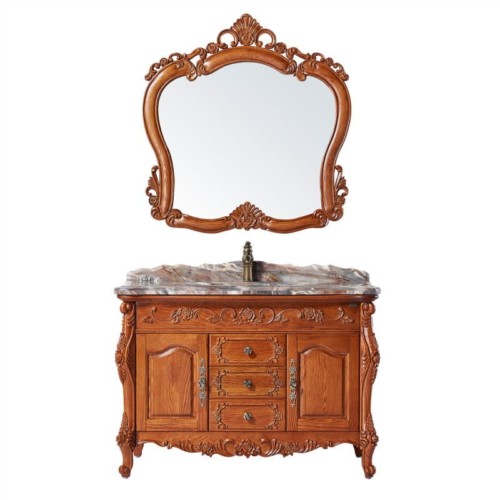 2.Been qubayska musqusha alwaax ah
Golaha musqusha adag ee alwaax waxay leeyihiin qaab dhismeedka iyo muuqaalka labadaba, laakiin qarashku aad ayuu u sarreeyaa. If you want to pursue the style of the bathroom and the appearance of the bathroom, golaha alwaax adag waa doorasho wanaagsan. Si kastaba ha noqotee, Kabaha adag ee alwaaxka adag waxay u nugul yihiin qoyaanka mana aha kuwo waara.
3.Qolka musqusha ee birta aan xirnayn
Stainless steel bathroom cabinet has a stronger metal texture, good wear resistance, and moisture resistance, environmental protection is also very good, and it is also a good choice for a bathroom cabinet. Si kastaba ha noqotee, the stainless steel bathroom cabinet itself is not high in appearance, and it will be aged due to water stains after long use, which requires more maintenance and repair.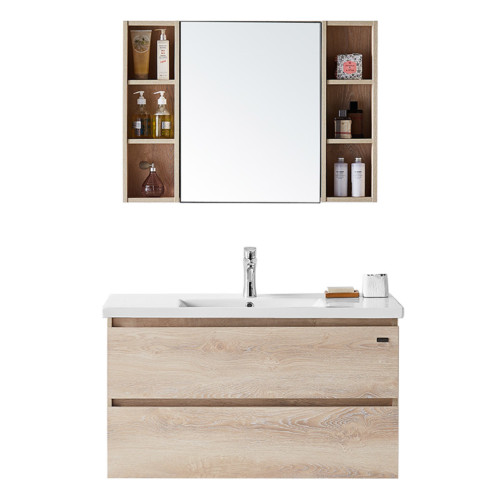 The above is about how to choose a bathroom cabinet. If you still have questions, fadlan nala soo xiriir. Frank is a bathroom furniture manufacturer in China focusing on high-quality bathroom cabinet for 13 sano.

Tags

:

Custom bathroom cabinets

,

Wall mounted bathroom cabinet